Rallycross a road course track car? Are you crazy?! Oh YES!
I borrowed some gravel tires mounted on 15×6 GTI wheels from my friend and took my DOHC V6-powered Fiero track car out to a RallyCross practice event. I have been very successful competing in the all-wheel drive Apocalypse Wagon but this was my first time on the dirt with a rear wheel drive car.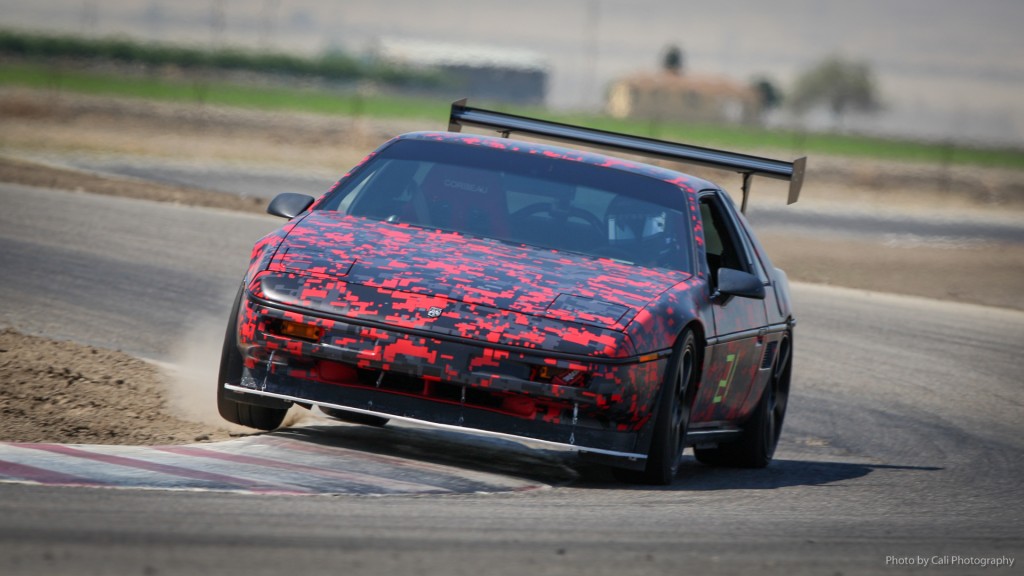 Conversion from my track setup to rallycross involved the following:
Swap wheels over to the gravel setup, removing the front wheel spacers
Remove fieroguru lateral link relocation brackets (15″ wheels will not fit over them)
Raise front and rear suspension by 2 inches using the adjustable coilover sleeves
Remove front splitter
Remove rear wing
After these adjustments, toe remained at zero front and rear. I didn't measure the camber but it is not critical for rallycross.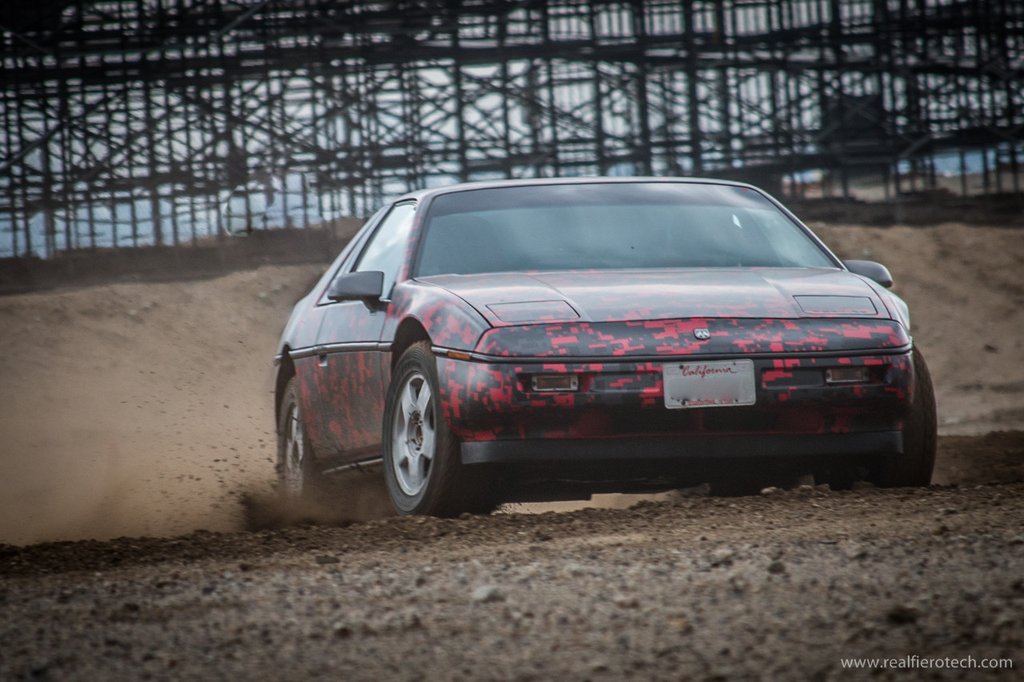 The car behaved VERY well. Surface irregularities were easily soaked up by my springs and dampers (800 lb/in front with custom valved Bilsteins, 475 lb/in rear with Koni reds at full stiff) and even the largest dips did not upset the chassis or result in tires losing contact with the ground. The fast steering made for very easy corrections. The 3.4 DOHC makes enough torque that 2nd gear can be used for almost the entire course. First was only needed if I messed up and lost a lot of momentum. Even in second gear at 2500 RPM I could spin the tires at full throttle. Even on a freshly-wetted surface, handling was predictable. The torque delivery is so linear that it's easy to control the rotation of the car by feathering the throttle and making minor steering adjustments.
It could certainly use some more grip.. the tires I used were heavily worn, hard compound, and hardened more with age. Some fresh gravel tires should help quite a bit.
I would definitely like to make it back out on the dirt, perhaps with some fresher tires. I also had a minor issue in the form of right strut tower separation.. but as scary as it sounds it was because of some work I had done in removing some brackets and adding clearance for the power steering pump, and I forgot to re-weld some spot welds that broke while I was hammering it out. Doesn't look too hard to fix though.
Here's a video of one of the runs. Sorry about the sound, I didn't have my external mic:
And some photos: