Vehicle: 2001 Subaru Outback Limited "Apocalypse Wagon"
Exterior: Desert Camouflage / Granite Black Pearl / Titanium
Interior: Black leather
Engine: 2.5L H4 "EJ251" – 165 hp @ 5600 RPM,  167 ft·lb @ 4000 rpm
Drivetrain: All wheel drive, 5-speed manual transmission, rear viscous limited-slip differential
Purchased: June 2010
Sold: December 2018
I bought the "Apocalypse Wagon" as a second vehicle so I'd have something nice to drive while converting my Fiero into something more performance-oriented with less streetability.
The requirements for the new car were: cargo space, reliablity, and off-road capability. So far, the Outback has excelled in all of the required areas. It's now my daily driver.
I drive my Outback off-road on backroads and rocky trails (see: http://youtu.be/uK3s3skUz6w), and compete in rallycross events. I also participate in the occasional track day or autocross when my Fiero isn't ready. The Outback has been a blast no matter where I take it. Good thing I shopped around for almost half a year to find one with a 5-speed in the color I wanted :-).
Rallycross has been particularly rewarding. With the ability to fit all-terrain tires, this car has been a force to be reckoned with when the conditions turn wet and muddy. It's not unusual for me to beat Modified AWD class times in the muck using this car. The lack of power shows when the course dries up enough for traction to not be a limit, but overall the Apocalypse Wagon's pros outweighed the cons. I won the 2013 Porterfield RallyCross Championship in the Stock AWD class!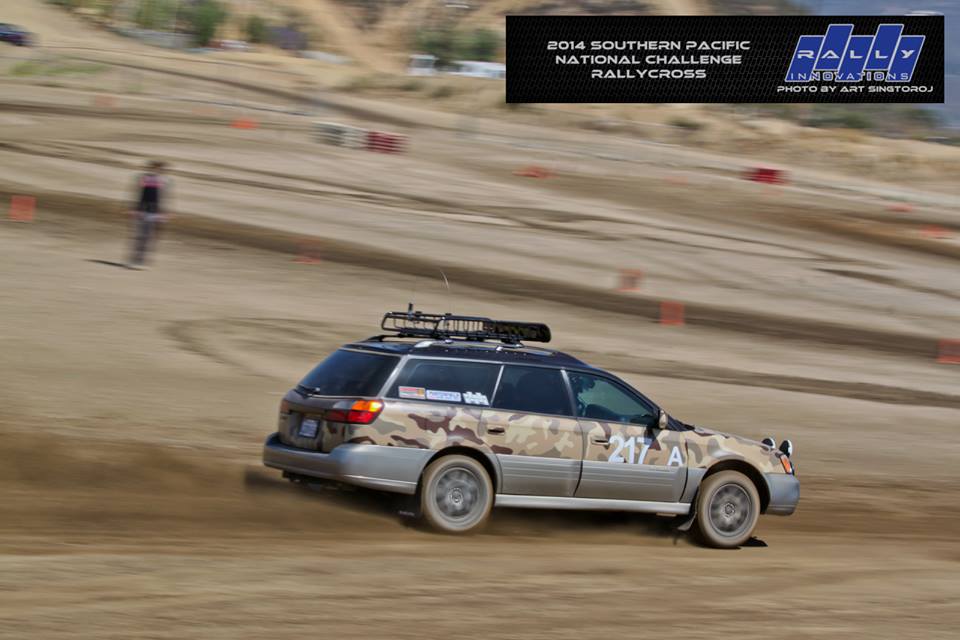 Championships
2013 Porterfield RallyCross Series Champion – 1st place – Stock AWD Class
2013 California Rally Series RallyCross Championship – 2nd place – Stock AWD Class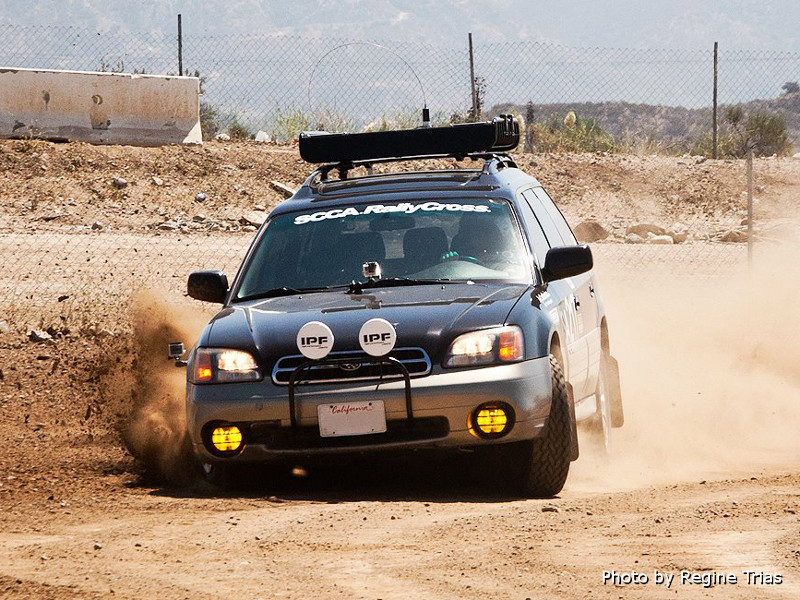 Individual Events
1st place, 2013 Glen Helen RallyCross #4, Stock AWD Class
1st place, 2013 Glen Helen RallyCross #6, Stock AWD Class
3rd place, 2013 SCCA RallyCross SoPac National Challenge, Stock AWD Class
2nd place, 2013 Glen Helen RallyCross #2, Stock AWD Class
2nd place, 2012 Glen Helen RallyX Xmas Special, Stock AWD Class
3rd place, 2012 Glen Helen RallyCross #5, Stock AWD Class
2nd place, 2012 Glen Helen RallyX Enduro, Stock AWD Class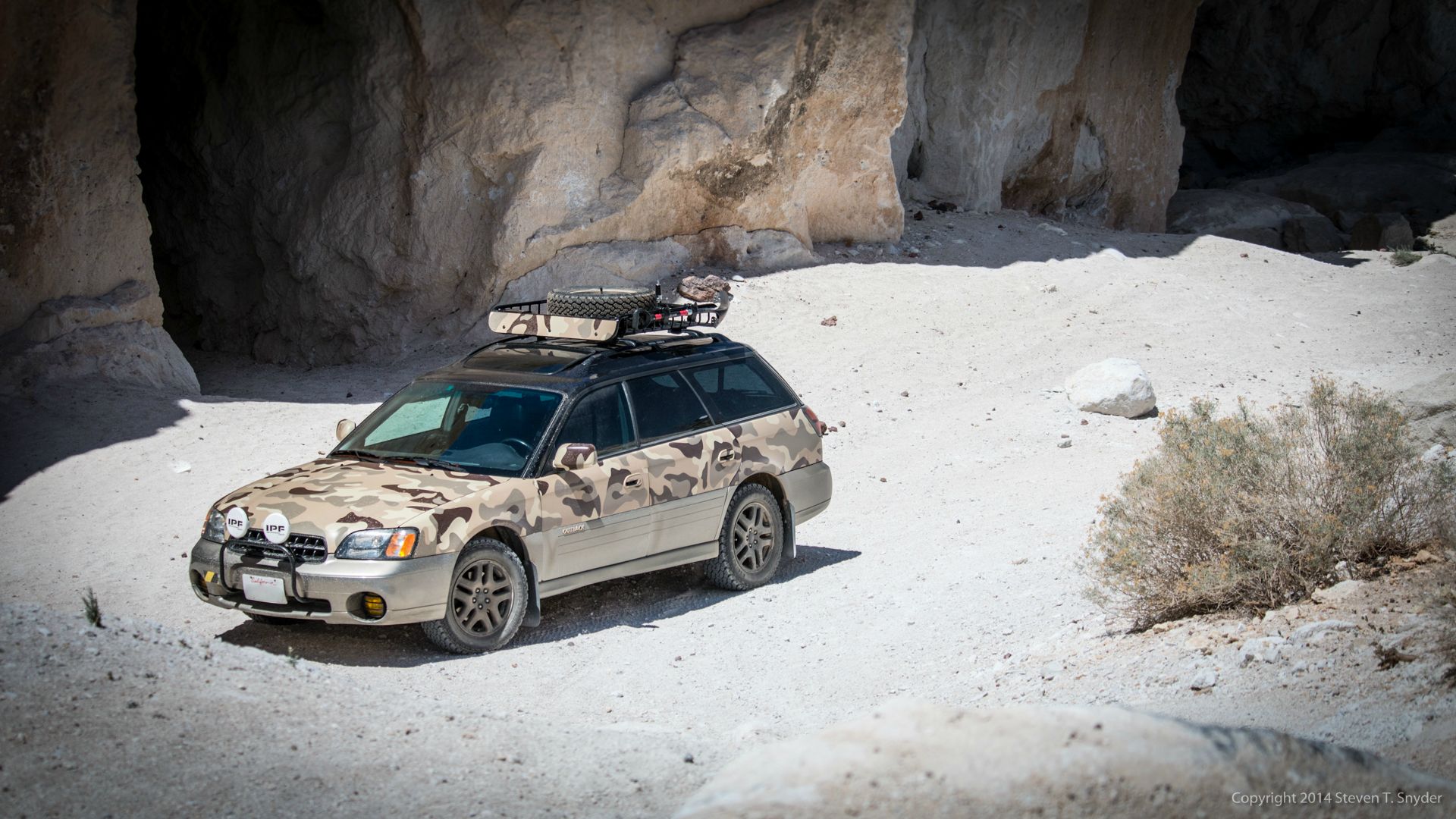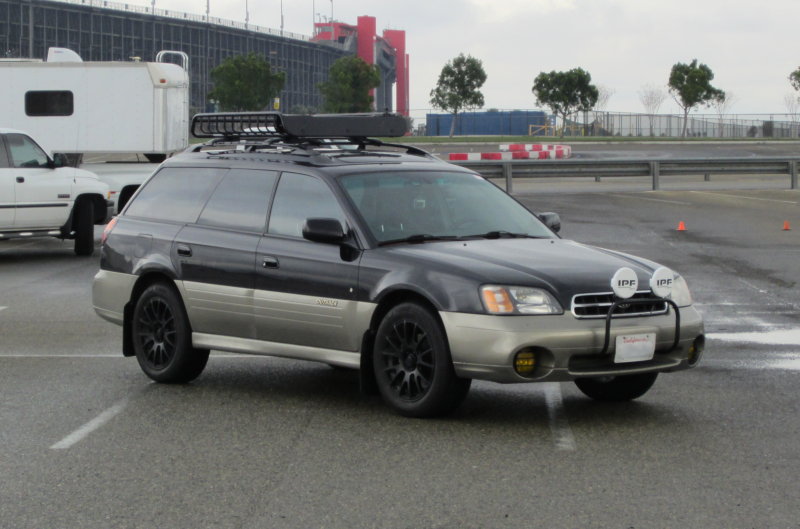 Additions & Modifications:
IPF 968 lights with 100 watt bulbs on a custom light bar fabricated by myself, built with the help of West Coast Fiero.
Primitive Racing front skidplate and rear diff protector
Custom polyurethane mudflaps
Desert camouflage vinyl wrap installed by me
Yakima LoadWarrior basket with Hella FF lights, shovel mount, spare tire mount, CB radio antenna, and Hi-Lift jack
Midland 1001LWX CB Radio
Kenwood KDC-X994 /w bluetooth
Boston Acoustics speakers
GoPro mounts on front bumper and roof basket
Red LED interior lighting (for maintaining night vision during nighttime activities like astronomy)
Yellow-tinted fog lights
Window tint by Scott Kim at Advance Auto Engineering in Cerritos, CA.
King KSRS-29 rear springs (higher spring rate than stock) and custom 1/2″ HDPE rear shock spacers (currently removed)
Off-road wheels/tires: Grabber AT-2 tires on stock wheels
On-road wheels/tires: Matte-black Motegi MR118 wheels (17×8) for street driving, TPMS-equipped (Dill TPMS)