I previously wrote about my first experience autocrossing my DOHC V6 Fiero. On March 9th and 10th I participated in the Evolution Performance Driving School Phase 1 and Phase 2 courses. It was my first outing since making a significant number of changes to the car to fix the oversteer problems that I encountered the first time.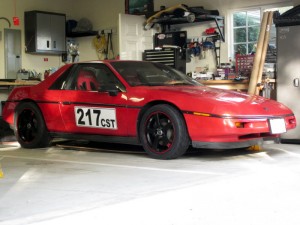 Notable changes since last time include:
400-lb/in front springs
Fieroguru's lateral link relocation brackets
New alignment
Revised lateral link lengths
New exhaust system
New clutch, new steel flywheel (I had continual problems with the aluminum one loosening up)
I also weighed the car (see below).
Setup
Tires/Wheels
Front: 17×7 (48mm offset) Motegi MR116, 215/45/17 Hankook RS3
Rear: 18×9 (45mm offset) Motegi MR116, 275/35/18 Hankook RS3
Alignment & Ride Height
Front toe in: 0
Front camber: -1.1 deg
Front caster: Mechanical maximum (I didn't measure)
Rear left camber: -1.8 deg
Rear right camber: -2.3 deg
Rear toe in: 0
Front ride height: 13.9 inches (fender arch to wheel center)
Rear ride height: 14.6 inches (fender arch to wheel center)
Weight (NEW!)
All weights are in pounds.
| | | |
| --- | --- | --- |
| | Without driver | With 140-lb driver |
| Total | 2779 | 2920 |
| Left Front | 604 | 655 |
| Right Front | 579 | 595 |
| Left rear | 780 | 833 |
| Right rear | 816 | 837 |
| Cross | 48.9% | 48.9% |
| Left | 49.8% | 51% |
| Right | 50.2% | 49% |
Shocks/Springs/Bushings/Etc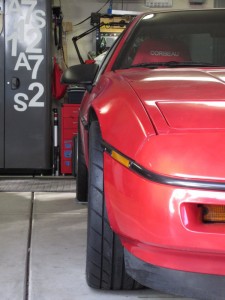 Front springs: West Coast Fiero 400 lb-in with ~1/2 coil removed
Front shocks: Koni Red, adjusted somewhere in the middle
Front swaybar: Stock, with Rodney Dickman's solid endlinks
Front bushings: Polyurethane everywhere except the swaybar mounts are stock
Rear springs: 350 lb QA1
Rear struts: Koni reds, adjusted somewhere in the middle, flipped strut top mounts for more compression travel
Rear swaybar: None
Rear bushings: Poly on the trailing links, solid rod end lateral links
Other: fieroguru lateral link relocation kit (lowers outer end of lateral and trailing links by 1.5 inches)
Weight reduction/relocation
Front mounted Miata battery (23 lbs), mounted behind the front crossmember
Corbeau A4 seats on original Fiero sliders
Removed jack, wrench, spare, and spare tire tray
Engine
Balanced and blueprinted 1993 3.4 DOHC V6, modified short runner intake manifold
220whp on the Dynapack at Church Automotive
Transmission
Fiero Getrag case with later Getrag 282 internals (slighter shorter 5th gear, larger and stronger diff)
Clutchnet organic/clutchtex disc and "yellow" pressure plate with stock steel flywheel
Exhaust
Stock exhaust manifolds and crossover, 2.5″ cat, Magnaflow 2.5″ single-inlet dual-outlet muffler, resonated tips
Brakes
Slotted/drilled 12″ Corvette rotors
88 Fiero calipers
Porterfield R4-S pads
OEM-style rubber brake hoses
Steering
2-turns lock-to-lock power steering rack from a C4 Corvette ZR1 or Z51 package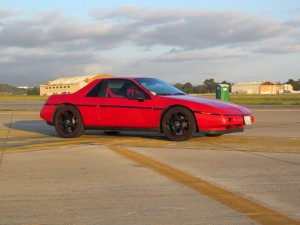 Handling Impressions
Wow! With the new tires and suspension modifications the handling is MUCH improved. There is no more tendency to oversteer into instability when tightening up a turn, even when applying power. Yet the car does not plow. It's VERY neutral.
The car received nothing but praise all day. Even the Evolution Performance Driving School instructors were impressed with the car's handling. They all commented that the car didn't have any weird habits, and was fast and fun to drive.
My run times were indicative of a massive improvement in performance. Rather than lagging seconds behind my friends' Honda S2000 (also running Hankook RS3s), I was running neck and neck with him.
Rather than being afraid to push the car due to it's previous tendency toward terminal oversteer, the handling now inspires confidence and feels very consistent and predictable. I felt like I could push the car to the limit of my ability.
You can check out a video of one of my runs here: https://www.youtube.com/watch?v=we8JNa_KOxk
Why it's better
The new tire sizes slightly increase the rear grip bias. Previously, I had the tires staggered with 205s up front and 255s in the rear, giving a tire width distribution was 44.6% front / 55.4% rear. With the new 215/275 setup, the distribution is 43.9%/56.1%. Actually, the rear grip bias is even higher than that because I went to a smaller diameter tire up front and a larger one in the rear, further decreasing and increasing the size of the contact patches respectively.
The stiffer front springs increase weight transfer to the front while cornering. This is certainly a factor in the new handling of the car.
Possibly the most significant change besides the tires is the addition of the fieroguru lateral link relocation brackets. With these brackets, the two lateral links and trailing link on each side have their outer pivots moved down by 1.5″ inches.
These brackets have multiple benefits:
Increased roll center height (and thus less body roll)
Increased camber gain
Increased static camber
Even with my adjustable lateral links reduced in length to match the stock links, I was still able to obtain the same static camber settings in the rear as before. I could have added a bit more on the rear left to match the rear right, but I was pressed for time and didn't want to mess with it.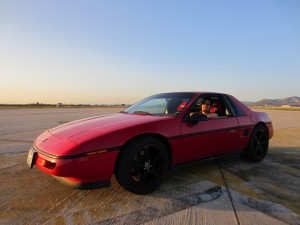 I didn't get any photos of my rear suspension in action like at the last event. However, based on the tire wear it looks like I'm no longer getting positive camber in the rear while cornering hard. Observers also noted that my car corners relatively flat, as I would have expected from the increased roll center height.
Next steps
Now that I have corner weights, I have enough information to have my shocks revalved, so I may do that soon. One of my front shocks is leaking, so I at least need to get it rebuilt.
I'll plan to run the car at a few more autocrosses for more driving practice and to see how consistently it performs… then it's on to the road course.
My friend took the car for a test drive and pointed out some high-speed handling peculiarities. After a few more autocrosses the next logical step is to get to a road course and sort those out. I currently suspect that one of the trailing links is loose or has soft bushings, causing a slight change in rear toe that's only noticeable at highway speeds.